TReCS spectra of nearby active galaxies.
<![if !supportEmptyParas]> <![endif]>
In May 2004, 8-13um spectra of a small number of bright nearby AGN were obtained with TReCS on Gemini-S. These data have been published in papers describing the spatially resolved structure of Circinus (Roche et al 2006a: MNRAS 367, 1689) and the silicate profile in other nearby galaxies with spectra of NGC 5506, NGC 3094 and NGC 7172 (Roche et al 2006b: astro-ph/0610583). The text files of the individual spectra can be downloaded below. See the above papers for details of the instrument set-up and plots of the spectra.
<![if !supportEmptyParas]> <![endif]>
The text files have 4 columns:
1. Wavelength (in microns),
2. Flux Fl in (10-20 Wcm-2),
3. estimated error (derived from the scatter in the points),
4. best fit using black body emission and silicate absorption (+PAH emission in the outer regions of Circinus)
<![if !supportEmptyParas]> <![endif]>
<![if !supportEmptyParas]> <![endif]>
Circinus Galaxy
PA 10 degrees PA 100 degrees
<![if !supportEmptyParas]> <![endif]>
<![if !supportEmptyParas]> <![endif]>
NGC 5506 PA 0 degrees:
<![if !supportEmptyParas]> <![endif]>
<![if !vml]>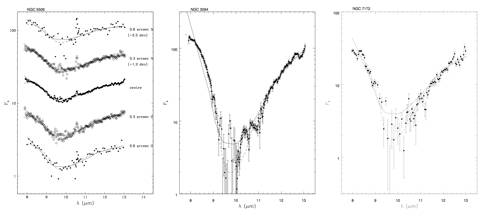 <![endif]>N5506 0.6N
<![if !supportEmptyParas]> <![endif]>
<![if !supportEmptyParas]> <![endif]>
<![if !supportEmptyParas]> <![endif]>
<![if !supportEmptyParas]> <![endif]>
<![if !supportEmptyParas]> <![endif]>
<![if !supportEmptyParas]> <![endif]>
<![if !supportEmptyParas]> <![endif]>
<![if !supportEmptyParas]> <![endif]>
<![if !supportEmptyParas]> <![endif]>
<![if !supportEmptyParas]> <![endif]>
<![if !supportEmptyParas]> <![endif]>
<![if !supportEmptyParas]> <![endif]>
<![if !supportEmptyParas]> <![endif]>
<![if !supportEmptyParas]> <![endif]>
<![if !supportEmptyParas]> <![endif]>
<![if !supportEmptyParas]> <![endif]>
<![if !supportEmptyParas]> <![endif]>
<![if !supportEmptyParas]> <![endif]>
<![if !supportEmptyParas]> <![endif]>
<![if !supportEmptyParas]> <![endif]>
<![if !supportEmptyParas]> <![endif]>
<![if !supportEmptyParas]> <![endif]>
<![if !supportEmptyParas]> <![endif]>
<![if !supportEmptyParas]> <![endif]>
<![if !supportEmptyParas]> <![endif]>