Principal Research Topics
Dr Philipp Podsiadlowski
(Oxford University)

1. Binaries Containing Compact Objects

The theory of low- and intermediate-mass X-ray binaries (LMXBs/IMXBs) and their relation to millisecond pulsars .

Recent studies have shown that the majority of LMXBs may in fact be descendants of IMXBs and that the standard model is wholly inappropriate.
Possible solution: irradiation-driven mass-transfer cycles: requires the modelling of irradiated secondaries (Sam Phillips) and in particular of the irradiation-driven circulation (Martin Beer).
The evolution of black-hole binaries (e.g. Nova Sco, GRS 1915+105).
The origin of ultracompact binaries, binaries with periods as short as 11 min (e.g. X1820-303, AM CVn binaries).
Collaborators: Saul Rappaport (M.I.T.), Eric Pfahl (CfA, Harvard), Rosemary Mardling (Monash)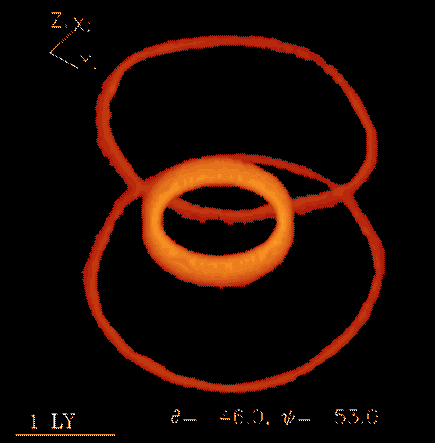 2. Supernovae in Binaries
Modelling the evolution of the progenitors of core-collapse supernovae (i.e. the explosion of massive stars), in particular SN 1987A and SN 1993J (SN 2000cl).
SN 1987A was the first naked-eye supernova since Kepler's Supernova in 1604 and is most likely the result of the merger of two massive stars inside a common envelope (press release).
Hydrodynamical modelling of the formation of the triple-ring nebula around SN 1987A (Thomas Morris).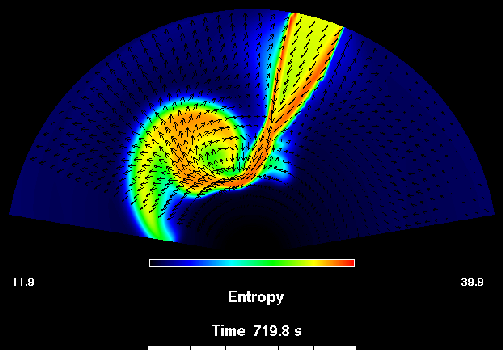 3. Type Ia Supernovae
Type Ia supernovae, the thermonuclear explosions of a massive white dwarf leading to its complete disruption, have been used in recent years to measure the acceleration of the Universe.
However, the nature of their progenitors has remained a major unsolved problem.
Study progenitor models and the presupernova structure (Pierre Lesaffre).
Model their population using binary population synthesis (Zhanwen Han [Kunming]).
4. Gamma-Ray Bursts (GRBs) and Hypernovae
Gamma-ray bursts are short flashes of mainly gamma-rays, lasting from a fraction of a second to tens of minutes.
The identification of optical counterparts in 1998 has shown that they may be the most energetic events in the Universe, visible throughout the whole Universe.
Some GRBs are now known to be associated with hypernovae, very energetic supernovae, possibly caused by the collapse of a massive helium core into a black hole.
Study possible progenitor models for both hypernovae and GRBs and understand their implications for galaxy formation (with Joe Silk).
Collaborators: Enrico Ramirez-Ruiz (Princeton), Martin Rees (Cambridge), Ken Nomoto (Tokyo), Paolo Mazzali (Trieste)

List of abstracts and published papers
Homepage